Easter is April 12th
COVID 19 update March 29 2020
Thank you to everyone for your encouragement and reminders that beautiful flowers and plants are a valuable resource during this time, and an important way that we can share our love for each other when needing to physically distance ourselves.
After careful consideration and evaluation of our procedures, The Flower Basket will continue curbside pick-up by appointment and provide free local delivery of beautiful plants, flowers, and gardening supplies.
Yes, you read that right: gardening supplies! We're working with local growers and producers to get you the best local compost, seeds, and plant starts for the growing season, and tools and advice to help you start your very own victory garden!
You can order on this website, by phone, or by email and we will deliver to you or have your order ready for pick up by appointment.
Give us a call! (802) 472-3397
e-mail us! theflowerbasketvt@gmail.com
Please note that our supply chain of fresh flowers is restricted, and we will be creating beautiful arrangements using what we have on hand plus our limitless creativity! We do have beautiful locally-sourced easter wreaths with blooming bulbs and our stunning indoor plants, including a lovely selection grown right down the street in Greensboro by Lynette Courtney. You can also order our popular 'designer's choice' custom-designed floral arrangement.
Thank you for supporting your local small businesses. We'll make it through this together!
Be sure to check out The Galaxy Bookshop, Whistle Emporium, Buffalo Mountain Coop, The Village Restaurant, The Scale House​, The Village Market, and the other fine businesses Hardwick has to offer.
Be well,
Nora
We custom design each arrangement and gift with you and your loved ones in mind. Let us know what you would like to make your arrangement extra special - favorite colors or flowers or fragrant herbs. We use locally-sourced dry and fresh flowers and decorative greens as much as we can.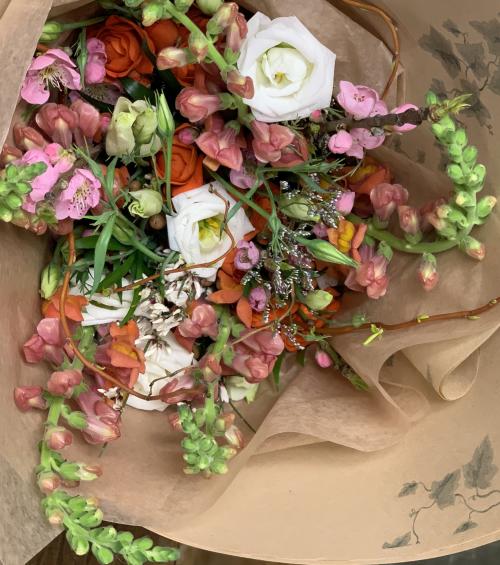 ---