Mother's Day is May 9th
Welcome to The Flower Basket!
We're so glad you're here.

We've reached our capacity for custom arrangements for Mother's Day and are no longer accepting delivery orders over the phone or website. We do have gorgeous houseplants, hanging baskets, and pre-made bouquets available for pick up in store. We will be open for shopping 9am - 4pm on Saturday, May 8th and Sunday, May 9th.
We love using local flowers, dried and fresh, and local greenery. Our bestselling arrangements by far are the "Designer's Choice" series - both in vases and hand-tied bouquets.
Want to give Mom an extra-special gift this year? Consider our Subscription Flower Service: you choose the frequency and price! We'll design to your special requests and you can cancel, change, or suspend your subscription at any time.
Do please feel free to add notes when you place your order. We are bespoke designers, so every floral arrangement we create is custom designed with you and your recipient in mind.
The Sunshine Fund started in February 2020 with an anonymous donation and a note to use the funds to share a "dose of sunshine" with someone in the community. We now donate at least one Sunshine Bouquet a week; sometimes more! All Sunshine Bouquets are funded by donations. Do you know someone who could use an extra dose of sunshine? Call or email us with your nomination!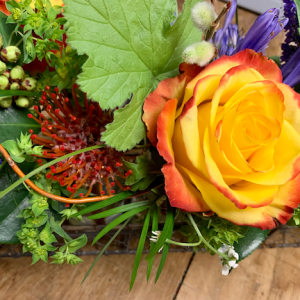 Subscription Flowers
Service
Give a gift that keeps giving with a subscription to our beautiful flowers, delivered on a schedule of your choice. As a courtesy to our subscription customers, we waive the price of delivery for subscription flowers after the first delivery of your order. We love to cater to your special requests, so please let us know about any flowers or colors that you would like included in your subscription, and any that we should avoid. Please also let us know in the "Special Instructions" field how often (e.g. once a month, every two weeks) you would like arrangements delivered. We'll be in contact soon to coordinate future deliveries and to thank you personally for your subscription.
$55.00, $75.00, $95.00
Shown at $55.00
More Info