Home
Welcome to The Flower Basket!
We're so glad you're here.

We love using local flowers, dried and fresh, and local greenery. Our bestselling arrangements by far are the "Designer's Choice" series - both in vases and hand-tied bouquets.
We are bespoke designers, so every design we make is custom made with you and your recipients in mind. Have a specific request? Let us know!
We've received a new selection of Lake Champlain Chocolates including Hot Chocolate!!
***
The Sunshine Fund started in 2020 with an anonymous donation to use the funds for a "dose of sunshine" with someone in the community. We now donate at least one Sunshine Bouquet a week, all funded by donations. Do you know someone who could use an extra dose of sunshine? Call or email us your nomination!
Holiday Hours and Winter Vacation
Tuesday - Thursday: 10am - 4pm
Friday, December 24th: 10am - 2pm
Saturday, December 25th - Tuesday, January 17th:
Closed for winter vacation!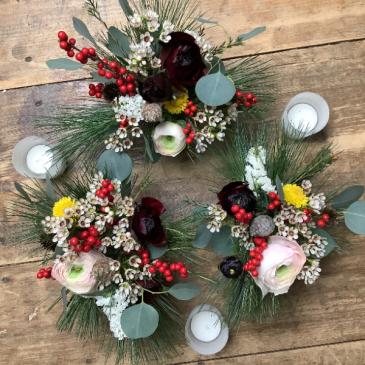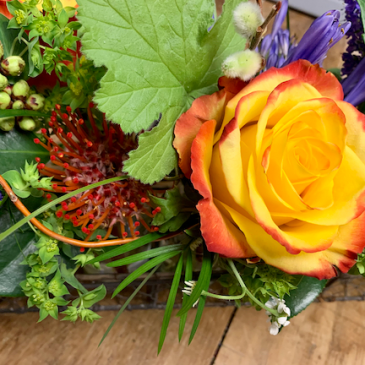 Subscription Flowers
Service
Give a gift that keeps giving with a subscription to our beautiful flowers, delivered on a schedule of your choice. As a courtesy to our subscription customers, we waive the price of delivery for subscription flowers after the first delivery of your order. We love to cater to your special requests, so please let us know about any flowers or colors that you would like included in your subscription, and any that we should avoid. Please also let us know in the "Special Instructions" field how often (e.g. once a month, every two weeks) you would like arrangements delivered. We'll be in contact soon to coordinate future deliveries and to thank you personally for your subscription.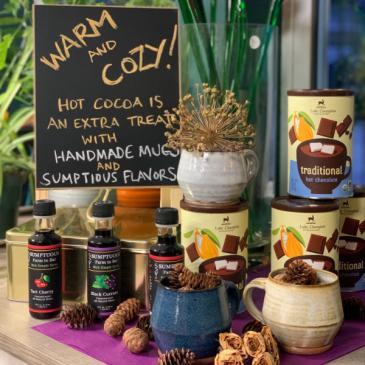 Warm and cozy! Hot cocoa is an extra treat with hand-made mugs and sumptuous flavors, especially so when made with Lake Champlain Chocolates' incredibly smooth and rich hot chocolate mix. Choose a gift basket with a single mug, made for us here in Hardwick by Katrina of Uphill Pottery, and container of hot chocolate mix for $45, add on a bottle of locally-made sumptuous syrups for a total of $55, and include a second mug for a total of $85.